Have you seen all the blog posts that are talking about their trip to
RCA
? I think it looks awesome. And at this point in my life, expensive. It would take me about a year to save up the money I would need for a trip like that.
My husband and Daughter at the Daddy Daughter Dance
And I think it's my husband who should really go. My husband is my principal, for those of you who don't know. He sacrifices being able to go to conferences the rest of us go to because he is either teaching, or working in the office, or at home with our own children. But with all the changes coming to our school, I think it's the perfect time and place to go visit. So I asked our Board of Ed for help paying for a trip for him. And they're considering it!!!! I'm so excited. It's not a done deal, but just the fact that they're thinking about it is exciting to me!
Even if he
can
go, it won't be me going. But I don't even care (although I wish I could go with him) that it's him and not me. At least I can hear about it first hand. And it's payback time for me. He is a huge help to me, and lets me go to the annual conference with all our teachers in Palm Springs, CA. A beautiful place. Especially in November. It's a special time to see fellow teachers and relax without kids or stress. So now it's his turn.
I feel a little like I'm wanting to do what all the cool kids are doing. But what a place RCA seems to be! It's hard not to be curious! So in the mean time, I'm reading this: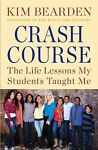 So far, so good. An easy read, and good for me to read at this point in my year. And only $.75 at Half.com!!!
"Enjoy" your Sunday. Can a teacher really do that?
[Glitterfy.com - *Glitter Words*]